Keep in touch with us! Click on the email address below with "Join" in the subject line. A couple times a year, we send out a notice about upcoming documentary screenings, new quotations, shop specials and public art news. We will never give your email to others, privacy guarantee! :-)
D o c u m e n t a r y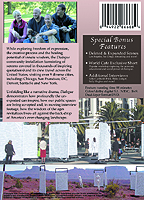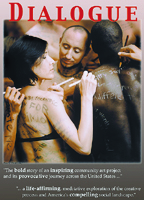 Feature 88 minutes, plus over 60 minutes of special bonus extras
Color, Dolby 5.1, NTSC, Widescreen, Dual Layer DVD
Price: $19.95 (regular retail $24.95)


Here are the many DVD special bonus extras:

Background interviews with Mike Garibaldi Frick, Sally Hughes and Blake Joerger.
Deleted & expanded scenes: San Diego, Santa Barbara, Union Square and Los Angeles.
Special behind the scenes creation of Dialogue Project: lifecasting and frame building.
World Cafe discussion group defining the valuable principles of dialogue for interpersonal and societal relations.

Expanded interview with Robert Lederman about free speech and public spaces.